Our Mission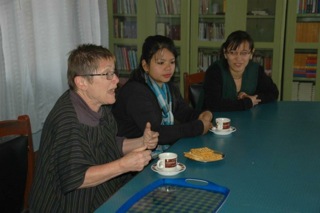 PaxWorks' mission is to practice effective human relation skills that empower women and girls, teach them leadership, and foster analytical thinking skills. Our teaching initiatives support community building and multicultural collaborations.
Our Vision
By creating space for girls' teams to lead their class' discussions, planning, implementation and reporting of a community project, PaxWorks aims at fostering analytical and leaderships skills in these students, which will help them to become community leaders in the future.
By creating international collaborative teacher training courses that focus on environmental climate change, PaxWorks empowers teachers in the U.S., Belize, and Nepal. These courses are developed using current best educational practices by connecting environmental studies, cognitive science, and culturally relevant pedagogy, resulting in experiential, motivating, and inquiry-based curricula. Tested and modified in local schools, the courses are then implemented in teachers' home classrooms. Donated computer and web-communication equipment promotes long-term collaboration and friendships across continents.
We believe that intimate educator partnerships build understanding and tolerance, which contribute to enhanced awareness of the fragility of and challenges facing our shared global environment.